FMB Insurance is delighted to become a Registered Code User of the Consumer Code for New Homes (CCNH), which has been approved by the Chartered Trading Standards Institute. All Developers which register with FMB Insurance are automatically registered with the Code, benefiting from top quality customer service and demonstrating a real commitment to consumers.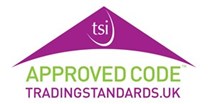 What is the Consumer Code for New Homes?
CCNH has been established to provide support and protection to consumers purchasing new-build homes in the UK. The ultimate aim is to provide a genuine commitment to consumers, improving standards of construction and raise customer service standards in the New Homes market.
What does the Code cover?
The Code covers the New Home buying process to ensure that the selling activities the Developer engages in are of a consistently high standard. This includes:
Pre-Purchase Stage: ensuring high standards of customer service, fair and clear documentation, adequate information provision
Contract Exchange Stage: governing the Contract of Sale, requiring minimum standards for fair and transparent contracts, accurate information about when the property will be available and protecting deposits
Handover and After Sales: providing minimum standards for handover and after sales processes, ensuring consumers' health & safety and ensuring they have suitable information for maintaining and living in your property
Complaints & Disputes: giving consumers access to clear, speedy and low-cost dispute resolution if things don't go according to plan
What is the purpose of the Code?
The Code provides a mark of real quality to our registered Developer Members, to give consumers peace of mind that, when you are buying a New Home:
You will be treated fairly by the Developer and their Agents
You can have confidence about the Developer's legal and professional status as a company
You will be given clear and reliable information about the New Home and the purchase process
You will know what standards of construction & service level to expect from the Developer
You can access speedy, low-cost Dispute Resolution if you are not satisfied with the sales process
You will understand what you have to do to maintain your New Homes and address any problems that may arise
If you are in a vulnerable position, this is readily identified and you are given suitable support to help assist you in making decisions.
What are the benefits of the Code?
Benefits to Registered Developers: 
The Code benefits both you and Home Buyers by aiming to improve on the level of customer satisfaction and therefore enhancing the reputation of the industry. The Consumer Code for New Homes offers a range of benefits to Registered Developers;
Selling point to your customers:

since you are a member of an industry-led, consumer-focused Code for selling New Homes which demonstrates a consistent and high-quality approach

CML Compliant

: your New Homes can be sold with mortgages as the CCNH is approved by a number of major high street lenders

Regular inspection of New Homes during construction

: our Warranty Bodies commit to a minimum of four key stage inspections of all your plots

Independent Dispute Resolution

: you and your customers have access to a completely Independent Dispute Resolution Scheme which provides a fast, effective and low-cost solution to helping you resolve disputes if you need it.
Benefits to Consumer: 
The Code requires that all Home Buyers are treated fairly, know what levels of service to expect, are fully informed about their purchase and their consumer rights before and after they move in. Whilst being provided with a speedy, low-cost dispute resolution scheme to deal with complaints about breaches of the Code.  
You can download a copy of the Consumer Code for New Homes here
To find out more about the Consumer Code for New Homes, please visit www.consumercodefornewhomes.com