Neil Bellas General Builders
Neil Bellas General Builders, based in the West Yorkshire town of Huddersfield, approached us in November 2019 with an application for a 10-year structural warranty on the construction of two houses.  
The site, formerly an old butcher's shop in the town of Holmfirth – well known as the setting for the popular TV series, Last of the Summer Wine – is positioned on a steep incline.
An uneven landscape presented limited access and space for material storage, and would require detailed structural drawings to show how the construction methodology would lend itself to the challenging topography.
The client required a warranty that would be accepted by all UK mortgage lenders and provided full structural cover without any unnecessary exclusion clauses, which we were able to support them with.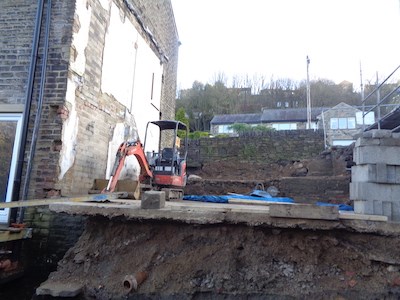 The Project
Neil Bellas General Builders provided us with detailed structural reports and design details, including foundation design, earth supporting the semi-basement design and corroborating waterproofing system.
Our insurance team discussed the proposal and considered the risks involved. A formal quote was then sent to the developer with a surveillance schedule in place to oversee the works at critical stages including foundations, DPC, steel work, waterproofing systems to the basement areas, superstructure, through to completion.
The Result
Both houses were completed to an excellent standard in August 2023. With a split-level design – two storeys to the front and three storeys to the rear – the buildings blend in with surrounding properties and provide a comfortable, modern finish.
Neil Bellas himself commented, "Me and my business partner found the whole experience of working alongside the FMB Insurance team very good – there were no problems contacting staff when required. We would definitely choose FMB again and I would certainly recommend FMB Insurance services to my associates in the trade."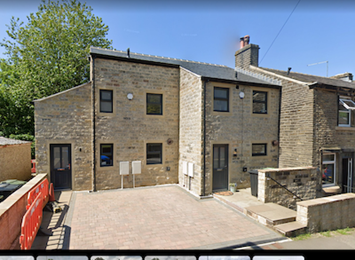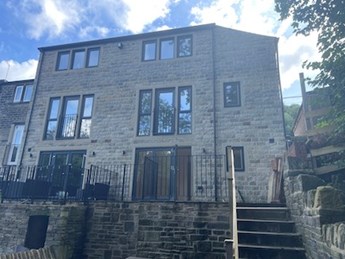 ---
Tiwana Construction Ltd
Suffolk-based developer, Tiwana Construction Ltd, approached us in November 2020 with an application for a 10-year structural warranty on a proposed barn conversion.
The existing structure was in a severely dilapidated condition, including badly distorted walls and roofline, rotten and infested timbers, major water egress, no drainage provision on-site and evidence of asbestos.
The building is Grade 2 Listed and the local planning authority imposed strict covenants, restricting the number of physical changes that could be made. Complying with current building regulations was difficult for certain aspects of the development. For example, the size of the windows would be too small for anybody to escape from a fire, so alternative solutions had to be provided to protect the future occupants in this event.
This was an unquestionably complex project and the developer was struggling to find a suitable insurance policy. It required a tailored warranty to cover the preservation, conversion and extension of the building, which we were able to provide.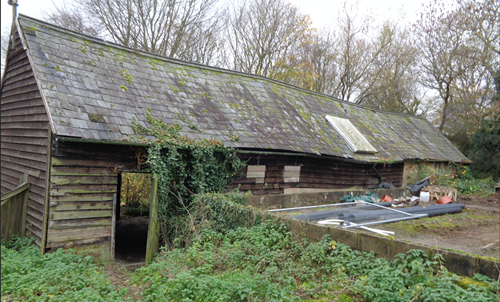 The Project
Tiwana Construction Ltd provided us with detailed structural reports and design details, including the works required to stabilise the building and meet the requirements of current building regulations.
Our insurance team discussed the proposal and considered the risks involved. A formal quote was then sent to the developer with a surveillance schedule in place to oversee the works at critical stages from start to finish.
Asbestos removal, ground clearance, underpinning, damp proofing, timber replacement and preservation treatment were carried out along with the introduction of additional framework to support the roof structure before any of the rebuilding work could commence.

The Result
The conversion of Rippington Barn, Great Gransden, was completed in April 2023. The building provides modern, practical living space whilst retaining its periodic character and charm.
The developers had to strip everything back to the raw foundations of the barn – before rebuilding the whole structure, including the floor and roof which surrounds the existing treated timbers. They rebuilt the barn to a modern standard with a new wing featuring extensive glazing and metal roof.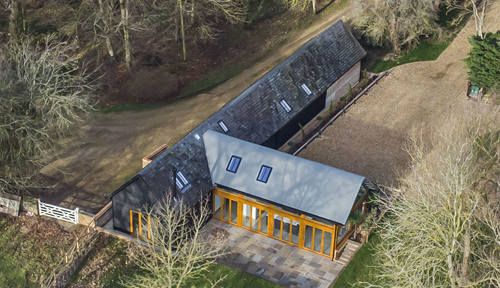 With a focus on sustainability, eco-friendly systems were installed including a waste water treatment plant that disperses clean water back into the local waterway and protects the environment. Air source heat pumps also provide energy efficient heating and hot water in this well-insulated modern family home.
Director of Tiwana Construction Ltd, Harjinder Singh Tiwana, says, "Jeremy, the FMB surveyor, has been very helpful throughout this process, giving advice where he could. I have used FMB structural warranty insurance on a couple of projects, and I intend to continue this good relationship on future projects."
---
  Daco Construction Ltd
Based in the heart of Norfolk, Daco Construction Ltd was founded in 2014 by Steve Dawes and Ben Connolly, who collectively have over 35 years experience in construction and 25 years buying experience. The team are able to provide a full range of services and expertise, from traditional construction methods to eco-friendly new builds, across all forms of residential, commercial, new-build and renovation projects. 
As well as using FMB Insurance's New Homes Warranties and Domestic & Commercial Warranties on their builds, Daco also protect their business with Liability Insurance.
Liability Insurance is designed to protect you and your business from claims made against you for injury or damage to a property or third-party individual. An important safety net should anything go wrong, the policy covers the legal costs should you be found liable.
Director of Daco Construction Ltd, Ben Connolly, says, "We have been covered by FMB on all of our Business Insurances and build warranties for a number of years now. Everything is in one place and that makes things so easy for me. The Surveyors and office staff are really easy to deal with and very helpful. I would thoroughly recommend them to any Contractor or Developer."
Click here to read about No Twenty9, a Daco Construction project, as featured in the April/May 2020 issue of the Master Builder magazine.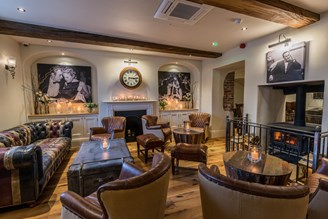 ---
   

 

LP Harman Building Services Ltd
Family is at the heart of everything at LP Harman Building Services. Being the third generation of builders in their family and having learnt everything they know from their grandfather, a master of bricklayers, the team take great pride in their work. Their combined skills span multiple trades, allowing them to cover all aspects of the job and deliver a complete build. The company specialise in new builds, renovations, conversions and extensions.
LP Harman use FMB Insurance Domestic and Commercial Warranties on their builds. The warranties are specifically designed to give you complete peace of mind before, during and after construction to your existing development. They offer cover for a wide range of projects, including; porches, internal alterations, loft conversions, extensions and much more. Each of the policies (excluding Value), protects against liquidation, faulty workmanship and structural damage to varying degrees, depending on which policy you choose. 
Managing Director of LP Harman, Luke Harman, says, "It gives our customers great piece of mind and trust in the work that we do by being able to offer them warranties with great accreditation from FMB insurance. The team are extremely helpful and make the entire process so seamless for both us and our client."
Click here to read about Holly's Big Build, an LP Harman project, as featured in the Oct/Nov 2020 issue of the Master Builder magazine.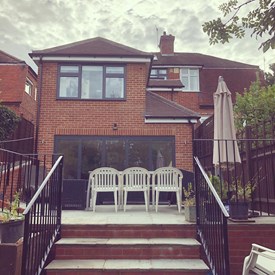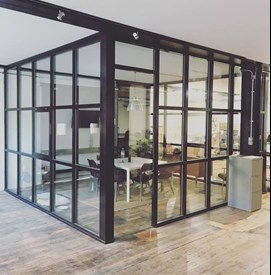 ---
     Swan Homes Ltd
Founded in 2009, Swan Homes specialises in new home developments. The company pride themselves on their exemplary reputation for creativity, quality and attention to detail, from sourcing plots to long after the client has moved in.
In order to reassure clients and provide a comprehensive construction service, Swan Homes uses FMB Insurance's New Homes Warranties on all of their new developments. Covering the build for 10 years post-completion, these types of warranties give Swan Homes' client's the ultimate peace of mind.
For most UK mortgage lenders, a warranty is often required on the home in order to release money to the client. Without a warranty, the homeowner may struggle to sell the home on. If anything was to go wrong, it would be up to the homeowner to put right, which isn't ideal when the client has spent a considerable amount of money.
Managing Director of Swan Homes, Adrian Swan, says, "Using FMB Insurance has been easy from the start. The team are knowledgeable, friendly and always on hand to help with any problem."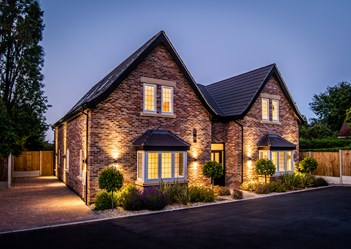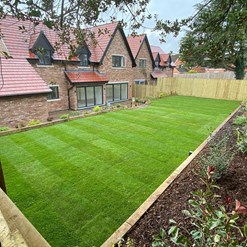 ---
Daniel Barella
Once you've settled into a home, you will likely want to make any changes which would make it a more comfortable place to live. Unfortunately, there is always a possibility that the planned improvements could go wrong.
Recently, a homeowner (our policyholder) experienced an example of this lack of quality including "multiple issues with tiles cracking and falling off the walls to free-standing bath and taps not being secured to the floor."
Fortunately for the homeowner, they held cover under FMB Insurance Domestic and Commercial policy for the damage caused by the builder and FMB Insurance was able to review the claim and offer remedial work swiftly. 
Without this cover, the cost for remedial work would have fallen solely to the policy holder. Speaking about his experience, Daniel Barella said,"The new builder FMB provided was 1,000 times better than the previous one and the finish was in a different league, I am very satisfied."
To find out more information on any of our Insurance services please click here